NOTE:  As I post this, we are having some problems with pictures showing up in our blog posts.  I have no idea why that is, but our "I.T." folks are aware of it, and I am told that they are working on it.  If you cannot see all the pictures, keep checking, they are worth it, I promise.
NOTE 2:  Still having problems with pictures on our blogs.  I know that if I am looking at fishing reports I WANT TO SEE FISH PICTURES!!!!!!!!!!!!  I also posted all the pictures from this blog post here, http://www.nefga.org/forum/showthread.php?39943-Daryl-s-Barbs-and-Backlashes-Weekend-Report-Memorial-Day-2011 .  Read the blog and use that link if you want to see all the pictures.
Time for me to get a quick report up on my weekend activities.  Most years we travel to North Platte to help butcher the in-law's chickens on Memorial Day weekend.  Due to their last child graduating from high school this year, they did not have chickens to butcher.  We traveled to North Platte and spent the weekend with family anyhow.  In between the chicken chores we have always done plenty of fishing on past Memorial Day weekends, I guess we perhaps did a tad bit more this year.
So, let me get right to it.  The first report I am going to give is nothing new, I have blogged about it several times in the past year.  I have told you that the Lake Ogallala trout fishery is very good right now and is going to be that way for awhile.  I have said it before, will say it again now; I will be taking advantage of that every chance I get.  My son and I spent a couple of days up there fishing again over Memorial Day.  The water is high and they are releasing a lot of water from McConaughy and that definitely makes the fishing more challenging, but it certainly does not mean that fish cannot be caught.
We caught dozens of trout, literally.  I do not know exactly how many because we lost count.  Our fish were as small as 10 or 11 inches, but the average size would have been 16-18 inches.  Our biggest fish were 20 inches or better, the biggest you see there was 21 inches.  All of them were released and are still growing.  I cannot wait to see what we catch this fall.
Here is a short video of some of the action.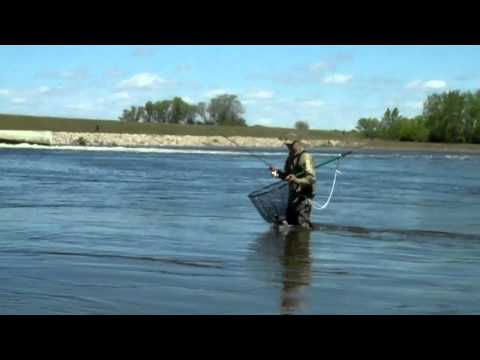 There you go, no blurred backrounds, no secrecy, you can see exactly where we were fishing.  I will just say this, there is a lot of water coming through that system right now; if you venture into the water in a pair of waders, make darned sure it is safe.  As you can see we were drifting baits in the current.  Lake Ogallala and associated waters (the canal and North Platte River downstream from the lake) are extremely productive and have a lot of aquatic insects that those trout eat.  Anyone that has spent any time fishing for trout in rivers or streams knows that those fish sit in the current and feed on prey drifting in the current.  That is what we were doing and it was not hard to catch fish.
Now some of you will think I have gone off the "There is No Place Like Nebraska" deep end; that all I am doing is hyping and promoting Nebraska fishing because it is my job.  I do not care, you can chose to not believe me.  But, I have fished some of the most famous trout waters in some of our neighboring states to the west.  I am not exaggerating one bit when I tell you that the trout fishing my son and I had a couple of days last weekend, IN NEBRASKA, was as good or better than any trout fishing we have ever experienced on some of those famous trout waters.  The numbers of fish were excellent and you can see the size of fish was impressive and getting better and better as those fish continue to grow.  Chose to ignore me if you want, but the trout fishery in Lake Ogallala and associated waters right now is as good as any trout fishery you will find anywhere in the country.
One of the things I love about the North Platte area is the variety of fishing opportunities that are available.  No matter how much time I have, there are always more places I want to fish.  Memorial Day weekend is usually a good time to hit the Interstate 80 lakes for some panfish and once again this year we were not disappointed.  We scratched some rock bass from one interstate lake.  I managed to catch the biggest one at 11 inches, but we had several others that were 9 and 10 inches long.
A number of the Interstate 80 lakes have good populations of redear sunfish as well and we like to pursue them mostly because they are something different, but also because they are some really nice-sized sunfish.
Again I got lucky and caught the biggest redear we caught, a fish that was over 11 inches long.  My son and I caught several that were larger than 10 inches, but we could not get one over that Master Angler minimum length for my daughter Emily.  It was not because we did not try hard enough.
How's that for a dedicated guide?  Looks like we may be needing to get Emily her own set of waders one of these days.
Emily did insist on measuring my biggest fish and in the process got splattered with mud.
Let me share a few observations while fishing the interstate lakes.  I saw some largemouth bass guarding nests and spawning on one interstate lake, but we had one evening where we caught a number of pre-spawn, 3-pound largemouth on another interstate lake.  Sorry bass anglers, we did not take any pictures of the bass.  We kept thinking we would get at least one big "photo fish", but could not get any over the 3-pound hump.  The bluegills we saw were just starting to bed; in fact there were more bluegills, including big males, cruising looking for prey than there were guarding nests.  So at least in that part of Nebraska I would say the largemouth bass spawn is just getting started or in progress while I expect the bluegills to really start bedding here in another week or so, especially with some warm weather.
You can see that the redears we caught were obese and full of eggs.

OK, take a close look at that last picture and you can see the jig I was using.  I want you to see that because I am looking for more of those jigs!!!!  They are small, 1/16 or 1/32 oz. "wobble head" or "standup head" jigs.  I bought a couple of them someplace and of course now that I want more I cannot remember where I bought them or what brand they might have been.  I cannot find them anywhere I have looked in stores or on the internet.  If anyone knows where I can buy more of them, please let me know.
Now some of you are wondering why that jig is so special, so I must tell you the rest of the story.  In places to the south and east of Nebraska, redear sunfish are often called "shellcrackers"; they love to eat snails.  Redears are much more likely to pick up baits off the bottom than are bluegills.  Now I did not say bluegills will not go to the bottom to pick up prey items because they will, but redears specialize in picking prey items off the bottom or off of aquatic vegetation or submerged woody cover.  If you want to catch redears, get down, fish on or near the bottom.  Tip a small jig with a piece of 'crawler or small leech and get it down on the bottom and you will be more likely to catch redears.
Oh, I am going to mention it again.  All of the fish we caught over the weekend, including the sunfish and rock bass, were released.  We were targeting big panfish and we want to be sure there are going to be some big panfish there for us to catch the next time we go.
I have heard lots of fishing reports from the Memorial Day weekend from waters all over Nebraska.  I do not know that I have heard a bad report yet.  Every year I say that May and June are two of the best months for fishing in Nebraska for a variety of species of fish.  I do not care where in the state you live or what you like to fish for, RIGHT NOW you really should be on the water!