My boss was talking this week about his dog and how much that dog likes to fish.  I have ice-fished with the two of them before and can tell you that if his dog hear's a fish splashing in your ice hole she will come a-running and then will have her nose right in the ice hole, clear into the cold water, where the fish was.  She goes nuts trying to catch a fish that you release back down an ice hole.
Anyway, that conversation reminded me of an interesting story I saw on the World Fishing Network, http://www.worldfishingnetwork.com/users/wfn/blog/animals-that-fish-137833.aspx .  Of course we all know that animals like bears, osprey, and bald eagles actively try to catch fish, but there are a few other unusual "fishers" as well.
One of the videos you can see on the link above is another fishing dog. . . .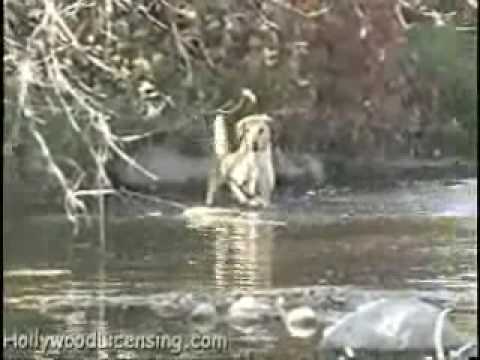 Back in my younger days when I regularly worked in the field, I worked one summer with a guy who had a golden retriever.  The dog was a nice companion that went with us on many sampling expeditions.  One day while doing some work on a western Nebraska reservoir, "Goldie" was down messing in the water.  We paid no attention to her until she came running up the bank with a live rainbow trout in her mouth.  I have no idea how she caught that fish, but as the video shows, I guess some dogs really are fishing dogs.
OK, now I have to give equal time to the cat lovers (yes, I will admit to being one myself, that may destroy my reputation with some of you, sorry).  If you have had a cat as a pet, or should I say if a cat has had you as a servant, you know that most of them do NOT like water.  They may play around an aquarium, even stick their paws in the water, but for most house cats that is about as far as they go.  However, there is a wild feline in southeast Asia that actually loves the water and primarily feeds on fish.  Of course that cat would be called the fishing cat:
Now this last one is another video on the link I posted above, but this one is another fishing animal that I have had some encounters with.
You know I am a fisheries biologist, avid fisherman, and I love fish.  I do not hate snakes, but I am no herpetologist.  I do not go out of my way to kill snakes; I have no problem admiring them in their native habitat and then letting them go their way.  Snakes and I get a long fine, I do not have a snake phobia and I do not hate them, but I am not one to go looking for them or to catch and handle them.  Having said that, I do not like northern watersnakes.  All of the northern watersnakes I have encountered have had a bit of a bad attitude, and I do not appreciate snakes that try to intimidate or bite me.  I suppose northern watersnakes like to bluff and bluster and make folks think they are poisonous water moccasins, which are not found anywhere near Nebraska by the way, so I do not like them.
A buddy and I used to trap a few minnows when we were kids; we always needed good, lively bait!  Well, I can remember times where we would pull our minnow trap out of some small stream or irrigation drain, and there would be a stinkin' northern watersnake in the minnow trap.  Of course that meant the minnows were all gone, we surmised the watersnake had gotten into the minnow trap to eat them all, and then we were left with an empty minnow trap with nothing but a dead (usually they were dead) northern watersnake we had to extract.  I try to appreciate all creatures for their uniqueness, function, and in some cases beauty, but I have to admit I have little appreciation for northern watersnakes.  Nevertheless, here is the best reference I know for Nebraska amphibians and reptiles, including those lovely northern watersnakes, http://snr.unl.edu/herpneb/ .
Have a good weekend; it is late enough in the fall that you should not have to worry about encountering many northern watersnakes!