Both the Peregrines and the Kestrels are nearing the point of saying goodbye.  I know many of you have incorporated checking in on the webcams as part of your daily routine.  It is nice to see the birds have success, but there is uneasiness about seeing the young  birds leave (and having nothing to watch).   All six young American Kestrels have left their wooden box and are now facing the perils of the world.   As those of you that have been wathching already know, the young Peregrines are not far behind.   It is becoming less unusual for one or both of the young birds to be out of the nestbox and out-of-view of the webcams.    They are hopping up on the limestone (not concrete!, as I've been appropriately corrected
 ) and going around the corner.  I have yet to see either take flight, but that first leap cannot be that far off.     The birds will hang around the nestbox for a while, but they will just be making less and less face time as time goes on.   As for now, here is some video, captured by Troy Kroeger, of the juvenile Peregrines getting a meal.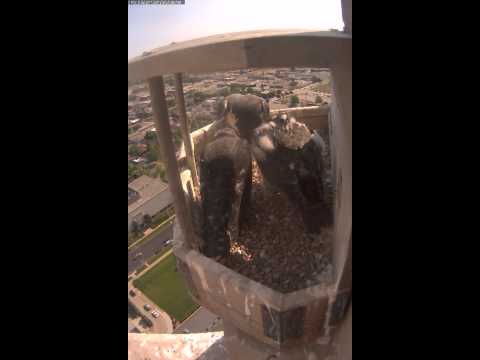 I use the term "juvenile" now because is appropriate, the birds are now in full juvenal plumage.  This is the plumage comprised of a bird's set of real feathers.     I am drifting into some technical details about molts and plumages.   So I will stop before I make a mess.