If you fish, sooner or later you are going to get a hook buried in some part of your anatomy.  I am sure all anglers have been hooked and most of us will eventually take a hook that penetrates past the barb.  A lot of folks end up in an emergency room when they get a hook past the barb into their flesh, but it does not necessarily have to be that way.  Here is a trick that can be used to remove a hook (WARNING: there is a little blood in this video).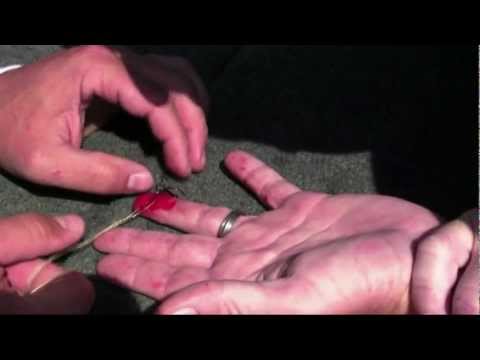 The "count to 3″ and then jerk the hook out on "1″ or "2″ is common practice employed by veteran users of this technique (yes, I speak from experience).  You may think that is some smart aleck inflicting torture upon his victim, but it helps keep the "victim" from tensing up when the hook is removed.
Here is a written description of the technique that provides a little more detail and does not go as fast as the video, http://voices.yahoo.com/how-remove-fish-hook-impaled-fisherman-504314.html?cat=11 .
If you wish, you can even purchase a kit specifically for removing hooks in this fashion, http://www.cabelas.com/product/Cabelas-Emergency-Hook-Remover-Kit/701896.uts?Ntk=AllProducts&searchPath=%2Fcatalog%2Fsearch%2F%3FN%3D%26No%3D20%26Ntk%3DAllProducts%26Ntt%3Dhook%2Bremoval%2Bkit%26Ntx%3Dmode%252Bmatchallpartial%26WTz_l%3DHeader%253BSearch-All%2BProducts%26WTz_st%3D%26WTz_stype%3DSP%26form_state%3DsearchForm%26recordsPerPage%3D20%26search%3Dhook%2Bremoval%2Bkit%26searchTypeByFilter%3DAllProducts%26x%3D0%26y%3D0&Ntt=hook+removal+kit&WTz_l=Header%3BSearch-All+Products .  That would be a good addition to anyone's tackle box.
I have used this "loop trick" to remove hooks from fishing partners and have even used it on myself (I did not want the kids to have to stop fishing at the time, they were catching fish!).  I would have liked to have known this little trick back when my cousin and I were on another one of our adventures years ago.  At the bottom of the Snake River canyon, he got a treble hook on a Mepps Spinner into his hand, clear past the barb.  As white as he turned, I was afraid I was going to have to drag his unconscious body all the way up out of the canyon.  Dragging him by the heels, I wonder how many times he would have hit his head on rocks on the way up?  We eventually managed to delicately work that hook out of his hand, but there was a lot of pain involved and had I known the "loop trick" it would have been so much easier.
Speaking of hook removal, I have one more story to tell. . . . I hooked myself in the back of my right ear once.  We were fishing an interstate lake and had not been catching anything; I got bored and picked out some heavy, ugly crankbait out of the bottom of my tackle box, you know, one of those baits that never got used.  Then I was goofing around making casts with about 5 feet of line and that heavy crankbait hanging from the end of my rod.  I loaded up to make one cast and felt something hit me in the back of the head and then I had this weight hanging on my ear?????  I reached up and sure enough, I had that crankbait hanging from my ear, hook past the barb.
By the way, that is the only ear-piercing I have ever had.
I slunk over to my father to let him know what stupid thing I most-recently had done.  Again the "loop trick" would have come in handy that day, but we did not know it then either.  Dad extracted the hook with his pocket knife.
Honestly, it did not hurt one bit.  I believe most of my ear is made of cartilage; I did not feel a thing.
Maybe that explains the notch in my right ear?????
Just kidding.