I am a Nebraska native and of course a huge Husker fan, http://outdoornebraska.ne.gov/blogs/2010/09/go-big-red-and-blue/ .  Had my heart ripped, still beating, from my chest during that stinkin' conference championship game, but I ain't going there–it is still too painful.
If you are a Husker fan or even just a resident of this great state you are probably aware that Tom Osborne is retiring from his current position as athletic director, effective at the end of this year.  I have a hunch I know what he will be doing with some of his free time.  I am told this video has been showing at time-outs of some of the Husker hoops games: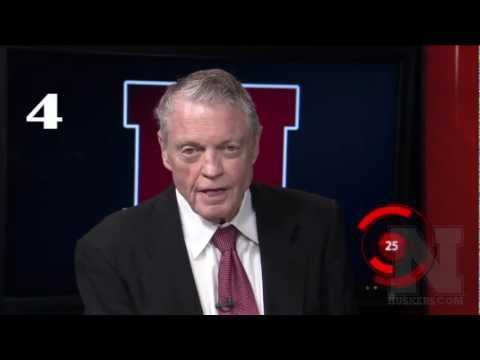 A pointy-headed, somewhat anal, fisheries biologist would have to point out that coach named both flathead catfish and yellow catfish–technically those are two common names for the same fish.  Is it any surprise that the first 4 fish he listed were trout?  We all know he loves to fly-fish.
I suppose on the occasion of Coach Osborne's retirement every Nebraskan and certainly every Husker fan would like to say "thanks" and a lot of us have some Tom Osborne story to tell as well.  Here is one a friend of mine included in his blog, it is a good read and an excellent story, take a minute and read it,  http://trevormeers.wordpress.com/2012/11/25/dr-tom/ .  I imagine a lot of others have some Tom Osborne story they will claim as their own; you might as well hear mine. . . .
Would you believe I have ran into "Coach" a couple times on the water?  The first was on a rainy Memorial Day weekend at Lake McConaughy.  It is hard to believe right now, but it honestly rained that entire long weekend.  I went fishing anyway; I can't dance.  Wonder why there was no one else fishing?  Anyway, after fishing for several hours in a downpour that morning I was back at my vehicle peeling waders off and putting equipment away when a van drove up behind me.  I did not turn to look, just kept placing baits back in my tackle box when the guy rolled down his window and asked if I had caught any fish?  Without looking, I knew immediately who's voice that was; no it was not God's, it was Coach Osborne's.  We chatted for a couple minutes about the weather and the fishing, I caught only one fish that morning, but it was a huge white bass.  I did not even mention football or that I knew who he was; I figured at that time and place he wanted to be treated just like any other fisherman so that is what I did.
On another occasion or two I have seen the figure of Coach Osborne standing in the waters of Lake Ogallala fly-fishing for trout.  Never figured the man wanted to be bothered at those times either so my fishing partners and I found another place to fish.
I do not need to tell you all that Coach Osborne has done for this state, for Nebraska football, for the University of Nebraska, for untold numbers of lives he has touched.  Most of us know that.  Most of us also know what a great man of faith and character he has been and continues to be.  He truly is one of the greatest Nebraskans, ever.  I will tell you that he has been a great friend and supporter of fish & wildlife and conservation in Nebraska.  He certainly has earned the right to enjoy life and dry off a few.  I hope the loops on his casts are always tight and that he catches the biggest trout in every pool.  Maybe our paths will cross on the water again someday, and I can swap fishing reports with him.  Thanks, Coach!