I have been blogging for a few years now, hard to believe.  I try not to repeat "stuff" but as the seasons change there naturally are some topics that come up year after year.  One of those that needs to be addressed every year about this time would be ice safety.  We have had a night or two of below zero temperatures in some parts of the state, and this time of year as soon as temps. fall below freezing, I start hearing guys talk about getting on the ice.  That bothers me because it has to get colder than that, for longer than that, for safe ice.  In most parts of the state, we ain't even close to having enough ice to even think about ice fishing yet.  So, I am going to go back to an old blog post and literally copy it here.  I know it will be new for some of you; others will roll their eyes and blow this off because you have heard it before–don't do it, this is important enough that you need to be reminded, again, every year about this time.
Water and Ice
We all know that water freezes at 32 degrees F.  Water chemistry can affect the freezing point of water and salt water does not freeze until it is colder than 32 degrees, but most of our freshwaters are going to start to freeze at 32.  Remember that water has different densities at different temperatures; water is at its densest or "heaviest" at 39 degrees F.  As the water cools below 39 degrees, it actually becomes less dense or "lighter", and water is at its "lightest" at 32 degrees F.  That of course is why ice floats.  Now, what I am about to say is going to sound incredibly brilliant, but no body of water can begin to freeze over until it cools below 39 degrees.  Keep in mind that bodies of water can have a lot of water and all of that water has to cool before ice can form.  When water temps. reach 39 degrees F, then the next "stage" is ice formation.  Until water temperatures cool to that point, it does not make any difference how cold it gets; all the water in a water body has to cool before ice can start forming.
Different bodies of water have different heat budgets; there are different volumes of water, different basin configurations, different depths, different basin orientation, different water chemistries, different aquatic communities, different water sources, different water exits, etc., etc., etc.  All of those things will influence when a body of water freezes over.  Generally, small, shallow bodies of water will freeze, and thaw, faster than larger, deeper bodies of water.
Wind can keep ice from forming and lord knows the wind blows in Nebraska.  When the wind blows hard, it can keep ice from forming and it can even break up thin ice that has already formed, but as that wind is blowing, it is cooling the water.  When the wind quits blowing and the temperature drops, ice may form quickly, overnight.
Once there is a cap of ice, then it can thicken by adding ice depth either on top of the cap or on the bottom of the cap.  Water underneath the surface of the ice can continue to freeze on the bottom of the ice cap making it thicker.  But, the thicker the ice becomes, the colder it needs to be to continue to "make ice".  Snow on top of the ice surface will further insulate the ice cap and make it harder for the ice to thicken.  However, snow on top of the ice will also weigh the ice cap down, cause it to "sag", and when that happens water will seep up through cracks and holes in the ice.  Water on top of the ice will create slushy conditions by flooding the snow cover, but eventually that slush will also freeze and that is another way the thickness of ice can increase.
Generally, first ice is relatively clear, hard, and will support the maximum weight for its thickness.  But, there are times when wind action can break the ice as it freezes and then chunks of ice will eventually refreeze into a cap of ice.  Or, snow may be mixed into the ice when it forms creating milky ice.  At first ice, any ice that does not appear to be clear and hard could be considerably weaker.  Also keep in mind that objects in the water or on top of the water or even shorelines themselves may capture warmth from the sun and ice in those areas may be thinner.  Areas of water movement will also have less ice.
Generally 3 inches of new, clear ice will support a person safely.  However, ice thickness can vary on a body of water and 3 inches of ice leaves little margin for error.  Four or more inches of new, clear ice will usually be plenty for safe ice-fishing.  Do not forget that new ice is often very slick and ice anglers should plan to wear some type of ice creepers to provide additional traction.  Hard falls on top of the ice can also cause injury.
Here is a video with some guy talking about ice safety:
Here is another excellent video you should watch:
Dr. Gordon Giesbrecht of the University of Manitoba is THE EXPERT on cold water survival, http://www.umanitoba.ca/faculties/kinrec/about/giesbrecht.html .  I would highly recommend study of any of his materials, he really knows what he is talking about.  For example this: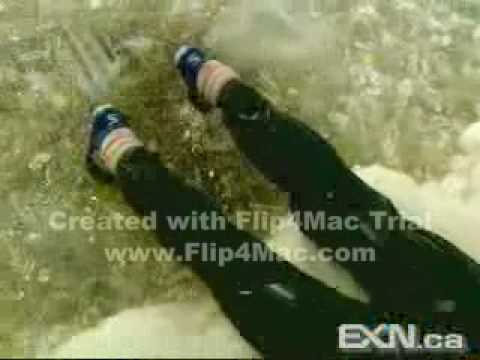 I am not posting this to scare people.  Ice fishing is a darned lot of fun and is safe.  However, you have to know what you are doing on the ice and you have to make sure it is safe every time you venture onto it.  I hope in the next week or two there are going to be a lot of folks eager to get on the ice and start fishing.  Some of you will need to wait just a little bit longer.  Listen to me, and be safe!